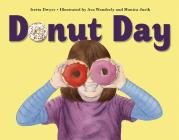 $17.95
On Our Shelves Now....best to call before coming in to pick up.
Description
---
"Donut Day" is a true story. Every
week Violet and her Dad visited their
favorite bakery and made thoughtful
decisions about which donuts to buy
for the special people in their lives.
Mystery, kindness and generosity
are key elements of the story. It also
teaches an important lesson: caring
about others, even those not related
to you at all, can be rewarding as
well as fun.