The Nightmare Before Christmas: 20th Anniversary Edition (Hardcover)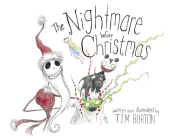 $17.99

Not on hand, usually available within 1-5 Days
Description
---
In this beloved picture book that could only come from the visionary mind of author and illustrator TIM BURTON, we meet Jack Skellington-- a well-intentioned inhabitant of Halloweenland.
Jack is bored of "the scaring, the terror, the fright....tired of being something that goes bump in the night". And so, in an effort to bring to joy to his town, Jack kidnaps Santa and takes his place as the jolly old elf. But instead of bringing joy to the world Jack, who is a little more than a grinning skeleton, brings fear by delivering creepy toys and riding a sleigh carried by skeletal reindeer.
Only through a number of things going horribly wrong does Jack learn the true meaning of Christmas.
About the Author
---
TIM BURTON was born and raised in Burbank, California. He attended the California Institute of Arts and soon after began a career as an animator at The Walt Disney Studios. He made his directing debut with the animated short, Vinvent. The film was a critical success and an award winner on the festival circuit. His celebrated films include Pee Wee's Big Adventure, Beetlejuice, Batman, Edward Scissorhands, Alice in Wonderland and Frankenweenie. His book of drawings and rhyming verse, The Melancholy Death of Oyster Boy and Other Stories was praised by the New York Times for "conveying the pain of an adolescent outsider."