Passage to Freedom: The Sugihara Story (Paperback)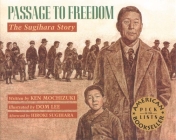 $10.95

Not on hand, usually available within 1-5 Days
Description
---
Jane Addams Children's Book Award Honor Book, American Library Association (ALA)
Parent's Choice Gold Award, Parents' Choice Foundation
Teacher's Choices, International Literacy Association (ILA)
Notable Books for a Global Society, International Literacy Association (ILA)
Books to Read Aloud to Children of All Ages, Bank Street College of Education
Children's Bookseller's Choice, American Bookseller's Association
Choices, Cooperative Children's Book Center (CCBC)
Close the Book on Hate Reading List, Anti-Defamation League
Honor Book Award, Society of School Librarians International
Jewish Book Award Finalist, Jewish Book Council
Notable Children's Book, Smithsonian
Notable Social Studies Trade Books for Young People, National Council for the Social Studies/ Children's Book Council
Pick of the List, American Bookseller's Association
The true story of Chiune Sugihara, the "Japanese Schindler," who, with his family's encouragement, saved thousands of Jews in Lithuania during World War II.
As a Japanese diplomat in Lithuania in the 1940s, Chiune Sugihara had a chance to help thousands of Jews escape the Holocaust through Japan, but it was against his government's orders. When his five-year-old son Hiroki asked, "If we don't help them, won't they die?" Sugihara decided to assist the refugees.
Based on Hiroki Sugihara's own words, Passage to Freedom is the first fully illustrated children's book to tell Sugihara's heroic story, highlighting his courageous humanity, and the importance of a child's opinion in his father's decision.
About the Author
---
Ken Mochizuki is a writer, journalist, and former actor who made his picture-book debut with Baseball Saved Us. He is also the author of several other award-winning picture books published by Lee & Low, including Passage to Freedom and Heroes. Mochizuki lives in Maple Valley, Washington. His website is kenmochizuki.com. Dom Lee made his picture-book debut with Baseball Saved Us. He grew up in Seoul, South Korea, and went on to illustrate books in both the United States and Korea. His titles for Lee & Low include Ken Mochizuki's Passage to Freedom and Heroes, as well as the award-winning Sixteen Years in Sixteen Seconds. Lee's unique illustration style involves applying encaustic beeswax on paper, then scratching out images, and finally coloring the images with oil paint. Lee and his wife live in Hollis, New York.