Nellie vs. Elizabeth: Two Daredevil Journalists' Breakneck Race around the World (Hardcover)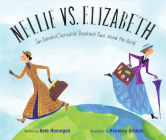 $18.99

On Our Shelves Now....best to call before coming in to pick up.
Description
---
Included in Smithsonian Magazine's Ten Best Children's Books of 2022

In this real-life adventure, daredevil and groundbreaking journalists Nellie Bly and Elizabeth Bisland race against each other–and the clock–as they circle the globe by ship, train, and foot. Join these two stereotype-shattering reporters as they prove that not only is traveling around the world possible, but that women are just as curious, capable, and courageous as any man.

Nellie Bly was an energetic and eager reporter, but she wasn't able to think of a good story for her editors. Wishing she was on the other end of the earth, Nellie had an inspiration–she would travel around the world, just like in the fictional adventure book Around the World in Eighty Days. When a fellow journalist, Elizabeth Bisland, heard about Nellie's plans, she decided to up the stakes–by beating Nellie in her own race! 
 
This exciting American history story about two pioneering women who paved the way for equality will inspire young readers.
 
The perfect choice for parents and teachers looking for:
Books for kids ages 7 - 10 about women's history
Feminist picture books about historical women, and daring books for girls
American history books for kids
About the Author
---
Chicago children's author Kate Hannigan writes fiction and nonfiction for young readers. A former newspaper journalist, Kate's nonfiction picture book biography A Lady Has the Floor earned four starred reviews. Visit katehannigan.com.

Raised in Wales, Rebecca Gibbon moved to Herefordshire after being based in London for many years. Rebecca took her foundation course at the Cardiff School of Art & Design, followed by a BA in graphic design at Liverpool School of Art. After graduating, she took an MA in illustration at the Royal College of Art. Visit instagram.com/rebecca.gibbon.
Praise For…
---
"In this swiftly paced picture book adventure, Hannigan traces the 1889–1890 circumnavigation of the globe undertaken by two intrepid women journalists...In acrylic inks and colored pencil, Gibbon provides brightly colored, intricately doodle-like accompaniment as numbered spreads portray the women's impressively conveyed journeys." —Publishers Weekly

"On November 18, 1889, two journalists left New York separately, each determined to circle the globe. Few women worked as journalists, and fewer would have dared to take such a difficult journey alone....the journalists' travels made the world seem smaller, while demonstrating the capabilities of women....Varied in composition, the mixed-media artwork illustrates the travelers' experiences and their times effectively. A spirited, historical picture book." —Booklist

"Two creative, energetic women set out on an around-the-world journalists' dream assignment in this book....The pages are colorful and have lovely landmarks of the locations Bly and Bisland pass through during their travels....This empowering...[and] unusual story with its driven women and epic tour belongs on the biography shelves, but the adventure shelves, too." —School Library Journal

"The real-life story of two intrepid female journalists and their competition to circumnavigate the globe. Hannigan recounts the hair-raising, breakneck race, including the challenges each women faced—seasickness, late ships, surly sailors, and more...The acrylic ink and colored pencil illustrations are colorful with fine details. ...[T]here's much to love in this historic tale of female derring-do." —Kirkus Reviews

"Hannigan's text and Gibbon's ink and colored pencil illustrations...effectively compare and contrast the personalities of the racers. A host of brief, breathless quotations from periodicals, commentators, and the subjects themselves offer insight into how the race was experienced by late nineteenth-century media consumers. An author's note alerts readers that the staged frenemy coverage masked just how much Bly and Bisland had in common, from obstacles both faced as women working in male-dominated journalism to their deaths by pneumonia and their interments in the same cemetery. Also included are brief biographies of ten female investigative journalists from the nineteenth to twenty-first centuries, a chatty note by Gibbons on her research, and a bibliography." —The Bulletin of the Center for Children's Books