Miami Art Deco (Paperback)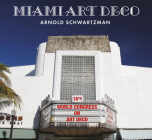 $19.99

Not on hand, usually available within 1-5 Days
Description
---
A book reviewer once described Arnold Schwartzman as "a trufflehound with a Nikon," praising his passion and inquisitive eye.

In Miami Art Deco, Schwartzman's sixth photographic book on Art Deco architecture, he turns his lens on the tropical sun-bleached facades of Miami Beach's pastel palaces. Following the devastating Miami hurricane of 1926, a square-mile of Miami Beach was redeveloped in the 1920s, 30s, and 40s and the Miami Beach Architectural Historic District (known as the Art Deco area) now encompasses over eight hundred buildings and is the largest concentration of art deco architecture in the world.

Schwartzman's stunning photography captures many of these unique buildings, from the hotels and nightclubs of Ocean Drive to the Miami Post Office, all heavily influenced by the sea and nautical life. This book of Deco delights should prove to be a delicious sundowner for the connoisseur of the Art Deco style.
About the Author
---
Arnold Schwartzman is an Oscar-winning film-maker, a noted graphic designer, and the author of many books including London Art Deco (2013), Art Deco City (2018), Arts & Crafts (2021) and Miami Art Deco (2023). He began his design career in British television before moving to Hollywood in 1978. He was the Director of Design for the 1984 Los Angeles Olympic Games, and for a number of years has designed many of the key graphic elements for the annual Academy Awards. He lives in Los Angeles.