The Monster on the Bus (Hardcover)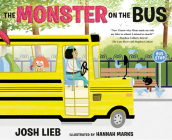 $18.99

Not on hand, usually available within 1-5 Days
Description
---
"Now I know why Mom made me ride my bike to school. I missed so much!" —Stephen Colbert, host of The Late Show with Stephen Colbert

"Josh Lieb continues to put out hilarious children's books that make up for his conspicuous lack of hilarious children's existential one act plays. Get on that, Lieb!!" —Jon Stewart, host of The Problem with Jon Stewart


A spooky and hilarious spin on a classic children's song, from the author of Chapter Two is Missing and the illustrator of The Panda Problem

It's the first day of school, and for Cassius and Angelique, that means their first ride on the school bus. The school bus can be a little intimidating for first-time riders! Will you have a friend to sit next to? Will the driver be nice? . . . and in the case of this bus ride, will that monster eat your backpack?

As the wheels go round and round, the bus gets more and more off course. Is that. . .a T. Rex sitting in the back? And doesn't that look like a wizard sitting in the front? Cassius and Angelique must outsmart a wild cast of characters if they want to make it to school on time!
About the Author
---
Josh Lieb writes books and poetry and television shows. He lives with his wife and multiple pets (two of them human) in New York City.

Hannah Marks is a self-taught illustrator and designer, who often gets her best ideas after eating cake. She lives in England with her husband, three children, a bonkers cat, two gerbils, and a teeny-tiny Roborovski hamster.​​​​​​Find her on Twitter @Hannah_Marks, on Instagram at hannahmarks_, and on Pinterest at hannahemarks.
Praise For…
---
"Now I know why Mom made me ride my bike to school. I missed so much!" —Stephen Colbert, host of The Late Show with Stephen Colbert